Cultural events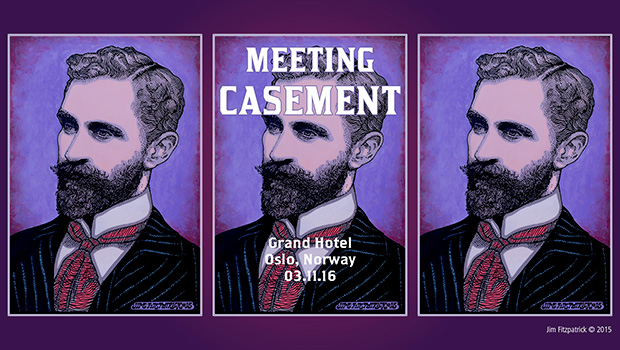 Published on October 17th, 2016 | by admin
0
MEETING CASEMENT at the Grand Hotel
This event will celebrate the life and times of diplomat, humanitarian activist, and Irish nationalist Roger Casement and his links to Norway. The evenings programme will explore various aspects of Casement's life through history, theatre and film and is part of the official 1916-2016 Centenary Programme. – www.ireland.ie
Meeting Casement is organized by Irish Art Oslo in cooperation with the Embassy of Ireland and the event will be in English.
Click for Tickets
Programme
Meeting Casement Oslo at the Grand Hotel
Thursday 03.11.16 at 19.00 (doors open 18.30)
Welcome
Ambassador of Ireland, Karl Gardner
Introductory Remarks
Petter Fredrik Wille, director of the Norwegian National Human Rights Institution.
Casement, his Norwegian connection and the Easter Rising
Presented by historian and author Bjørn Godøy
Eye – Witness – Casement
A dramatic presentation by actor Declan Gorman, drawing on Casement's Congo Report
Intermission
Our Kind
A short film by Alan Phelan followed by a Q&A session
Meeting Casement Bergen will take place at Litteraturhuset Bergen on the 04.11.16 and will have a slightly different programme.
A Brief History of Casement
Born in Dublin in 1864, Casement served as a distinguished British Consul in Mozambique, Angola, the Congo Free State and Brazil. Described by a number of international academics as "having a good claim to be the father of twentieth-century human rights investigation", he was honoured in 1905 for the Casement Report on abuses of native workers in the Congo Free State and was awarded a knighthood in 1911 for his important investigations on human rights abuses in the Putumayo region of Peru.
Casement's disillusionment with imperialism led to his involvement with Irish nationalism and the struggle for independence. In 1914 he travelled from New York to Berlin via Christiania, as Oslo was then called, in order to secure German support for an armed uprising in Ireland. Travelling under the assumed name of James E. Landy, he stayed at the Grand Hotel with his Norwegian travel companion Adler Christensen from the 28th to the 30th of October.
His brief stay in Oslo was marked by high intrigue in what is referred to as the Findlay Affair. According to Casement's version, Christensen was brought to the British Legation where he was offered a large cash bribe if Casement was "knocked on the head". In contrast, British Secret Service papers claimed that it was Adler Christensen who made the approach and "implied that their relationship were of an unnatural nature and consequently he had great power over this man". This may have provided London with the first intimation that Casement was homosexual.
Casement met with limited success in Germany and returned to Ireland by German submarine just before the Easter Rising in April 1916. He was captured almost immediately by British military forces. A shipment of arms for the rebellion followed the next day on a German cargo vessel disguised as Norwegian, but was sank by its captain to avoid capture.
Extracts from his diaries, detailing his homosexual activity, were circulated by British intelligence during his trial for treason in order to undermine support for Casement. He was executed on 3 August 1916 and was buried in an unmarked grave at Pentoville Prison. In 1965 his remains were repatriated to Ireland and were afforded a state funeral with full military honours.
About our contributors:
Ambassador Gardner, Embassy of Ireland 
– www.dfa.ie/irish-embassy/norway/about-us/ambassadors-message/
Petter Fredrik Wille, director of the Norwegian National Human Rights Institution
– www.nhri.no/om-oss/visjon-og-verdier/
Bjørn Godøy 
– www.spartacus.no/index.php?ID=Forfatter&ID2=413
Bjørn is a well-known Norwegian writer and historian. He was nominated for the National Book award in 2014. His talk will make special mention of Casement's stay at the Grand Hotel in 1914 and the high intrigue of the resulting Findaly Affair.
His most recent book Dobbeltspill (Double Game) was published by Spartacus in September 2016 and focuses on the relationship between Roger Casement and his Norwegian companion from Moss, Adler Christensen. Dobbeltspill explores the improbable relationship between Irish revolutionary hero Roger Casement and his Norwegian friend and lover, Eivind Adler Christensen. As World War 1 raged, the two set off for Germany where Casement planned to gather the government's support for Irish separatism. Within weeks, Christensen went from a ragged existence as an unemployed sailor to becoming a key player in Casement's vendetta against the British Empire.
Bjørn Godøy (1969) has studied film and history. He has previously written two documentary books on Norwegian history.
Declan Gorman
– www.declangorman.com/
About Eye – Witness – Casement
August 1916: On the eve of his trial for treason, a reluctant Roger Casement is persuaded by his defense counsel to revisit his famous "Congo Report" of thirteen years earlier. A damning indictment of atrocities carried out in Africa by agents of the corrupt King Leopold of Belgium, the report had elevated Casement to the status of hero in liberal England. Rehearsing it now might be helpful to his case. From his clammy cell, the doomed prisoner recalls the sub-tropical settlements of the Upper Congo River where he gave voice to men, women and children suffering torture and genocide at the hands of plundering invaders. But that voyage of witness led in time to Casement's questioning of even the so-called progressive 'civilizing' values of the British Empire on whose consular missions he faithfully served. The long night spent re-living his celebrated hour as the father of modern human rights advocacy leads to a cold dawn where he faces the inevitable fate of the liberal witness who has turned revolutionary activist.
About Declan
Declan is a freelance theatre director, performer and writer with over 25 years' experience in the Irish theatre scene.
His dramatic presentation, Eye – Witness – Casement draws on two books as key sources – The Eyes of Another Race: Roger Casement's Congo Report and 1903 Diary edited by Seamas O Siochain and Michael O'Sullivan and Imperialist, Rebel, Revolutionary by Seamas O Siochain
Alan Phelan 
www.alanphelan.com
About Our Kind
Our Kind imagines a future for Roger Casement had he not been executed in 1916. This film is set 25 years later in 1941, where Casement is in exile in Norway with his former manservant and now partner Adler Christensen. As the story unfolds those closest to him betray their relationships with him, paralleling Casement's isolation from his homeland, beliefs and the ideals of the Rising.
This is a deliberate challenge to audiences and the prevailing 1916 narrative as Casement is not presented as hero or icon; neither liberated nor closeted. Instead we encounter Casement as an ordinary human being with ordinary human needs, emotions, and failings.
About Alan
Alan studied at Dublin City University and Rochester Institute of Technology, New York. His practice involves the production of objects, participatory projects, curating and writing. These all inform, combine and contribute to an interest in the narrative potential surrounding an artwork. This can be exploited or explored from actual and historical events, ideas, things and places as well as their fictional counterparts. Working in the museum and archive sector has shaped this approach somewhat but more as a counterpoint than agency.
Alan Phelan's short film Our Kind was commissioned by Dublin City Gallery, The Hugh Lane as part of their 1916-2016 Centenary Programme. Most of the exterior shots were filmed in the Hardangerfjord region in January 2016. The film won the Hotron Éigse Art Prize at the Carlow Arts Festival this year.