Cultural events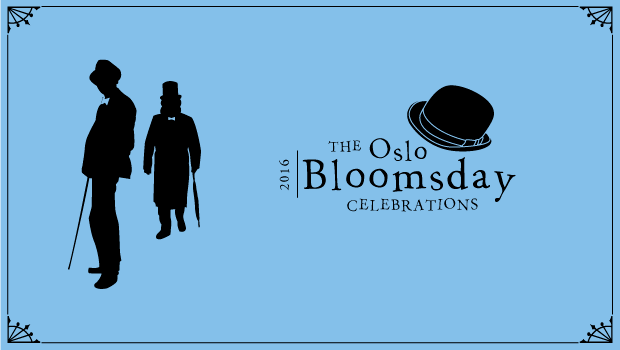 Published on May 27th, 2016 | by admin
0
Oslo Bloomsday Celebrations – 2016
We are delighted to announce this year's programme for the Oslo Bloomsday Celebrations. This is our seventh year at the Ibsen Museum and given the amazing Joyce/Ibsen connection, we cannot think of a better place to hold our annual event.
The opening address will be delivered by Ambassador Karl Gardner of the Irish Embassy and this will be his first Bloomsday here in Oslo. Our keynote speaker is the well-known cartoonist, artist and poet, Tom Mathews who has been a regular contributor to Bloomsday events at the James Joyce Centre and other locations around Dublin over the years. Tom will be presenting a piece titled, Remembering Joyce.Our theatrical piece comes from the Umbrella Theatre Company, Dun Laoghaire. Actor Martin Brennan will be performing a world premiere of their new play Joyce At Last which has been written by Michael Casey. As a special bonus this year, we will be displaying a very rare first edition of Ulysses courtesy of the Oslo University Library.
Tickets:
Pre-paid tickets only. Adult 200,- Student 150,- (with valid student card). The Bloomsday Lectures have a limited number of tickets, so make sure to get yours early. In the case of overbooking, ticket price will be refunded immediately.
To purchase tickets:
Pay kr. 200,- per person (or 150,- per student) directly into account number 6012.06.32054.  In the message field please write your full name.
Also confirm your payment by sending an e-mail listing the names of all ticket holders to: bloomsday@irishsociety.no
Dressing up:
After such great response in recent years, we are once again encouraging people to make a big effort to dress up in order to make this a truly festive event! We recommend Edwardian style costumes, such as bowlers, straw boaters, dicky bows and waistcoats for the men, while the ladies can delve into the world of bonnets, lace, petticoats and parasols. While it is by no means necessary to be dressed up to join in the fun, costumes are most welcome…the more, the merrier!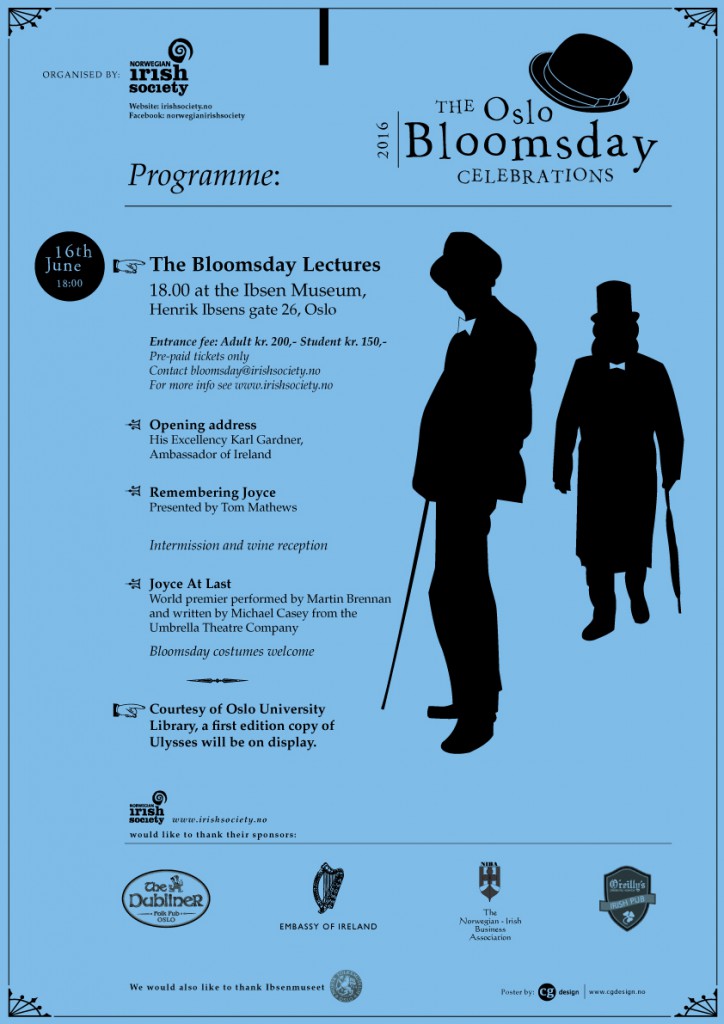 Tom Mathews –
Tom is perhaps best known for his cartoons, which were regularly featured in the Irish Times, the Sunday Independent and Hot Press, but he is also an accomplished artist and a published poet. Tom will be presenting a piece titled Remembering Joyce.
Remembering Joyce
When Tom Mathews first dipped into Ulysses back in 1970, he was hooked, and has been rereading it annually "backwards and forwards, down and up" for the intervening 46 years.
Remembering Joyce refers not to the man, but to the system Tom has developed for keeping track of what is going on in this enormous and complex masterpiece, a simple method of kick-starting the memory as to what happens in each of its 18 sections.
Like the book, his talk detours down many byways taking a necessarily brief look at six of his favourite episodes via anecdote, asides, verse, and the occasional insight.
Will it finish with a poem about Joyce? Yes, yes it will Yes.
You can read a more about Tom on the following links
http://dedaluspress.com/authors/mathews-tom/
http://irishcomics.wikia.com/wiki/Tom_Mathews
And here are also a couple of videos that you may find of interest
https://www.youtube.com/watch?v=mMNJZ3BT7Bo
https://vimeo.com/5621629
Joyce At Last
A One-Man Show about James Joyce and his Family
We are in for a real treat this year with the world premiere of the Umbrella Theater Company's new play Joyce At Last. This one-man show is performed by Martin Brennan and has been written by Michael Casey.
SYNOPSIS
James Joyce and his wife, Nora, have gone back to Zurich to avoid the Second World War. Their daughter, Lucia, who failed as an interpretative dancer, is in a mental hospital in German-occupied France; she will spend the rest of her life in an institution. Their son, Giorgio, married Helen Kastor Fleischman, a wealthy American heiress who is ten years his senior. They and their two sons travel between Europe and New York. But the marriage is in difficulty. Giorgio has failed as a singer and is drinking heavily. Helen, who is highly strung, will also end up in a mental hospital.
Now, close to the end of his life, and with all his work behind him, Joyce reflects on the sad state of his family. He tries to come to terms with his role as a father. He begins by being defensive, but in the course of a painful appraisal, during which he recalls conversations with Nora, Lucia and Giorgio, all of whom he loves dearly, he gradually gains some insight into his failure as a parent, even by the standards of his day.
The basic question posed is to what extent the creation of great literature has to be at the expense of family and friends.
First Edition Ulysses viewing
Sylvia Beach had only been in business for three years when she decided to publish Ulysses through her bookstore Shakespeare & Company in Paris. From the first edition of 1000 copies, the first one hundred were hand signed and numbered. One of these, number 28, is now part of Oslo University Library collection, and they have very kindly offered to display it during the Bloomsday Celebrations. Librarian Cathinka Neverdal will be on hand to answer all your questions on this extremely rare copy of what many regard as one of the most important books of the 20th century.
The first edition of Ulysses was originally bound in paper, and the turquoise and white colours were, after Joyce's exact instructions, matched to the blue and white of the Greek flag. Some found this binding "cheap", and chose to bind their copy in leather as with the Oslo University Library's copy. Ironically, this now lessens the value of the copy.
UiO University of Oslo Library