Cultural events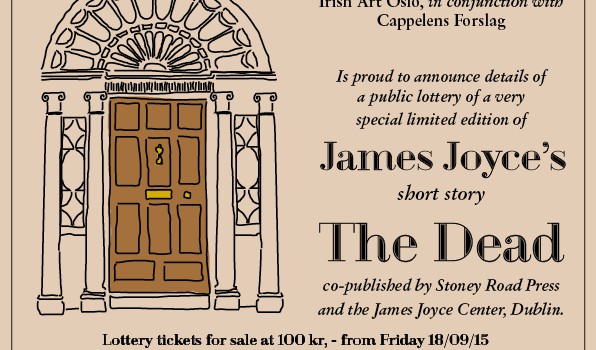 Published on September 25th, 2015 | by admin
0
The Night of the Dead II … The Sequel …
Due to popular demand, Irish Art Oslo is delighted to announce details of a unique opportunity to own a very special edition of James Joyce's short story, THE DEAD. On Friday the 6th of November there will be a public lottery held and the lucky winner will walk away with this limited edition handmade book.
On June 17th we held the Norwegian launch for THE DEAD and the idea of raffling a copy by public lottery was floated by someone in attendance. We are now delighted to bring this great idea to fruition.
Tickets are on sale at 100 nok and are limited to 140 in total. Tickets can be bought directly from Cappelens Forslag, Bernt Ankersgt. 4, 0183 Oslo or from John Fitzgerald: john@irishart.no – 930 68 032
The draw will take place on Friday 6 of November 2015 at 18.30 and the winning ticket will be selected by Professor Juan Christian Pellicer.
The event will be held at Cappelens Forslag, Bernt Ankersgt. 4, 0183 Oslo and will feature:
A talk about The Dead by Juan Christian Pellicer, Professor of English Literature, University of Oslo
A talk on Joyce and Censorship by John Fitzgerald of Irish Art Oslo
All are welcome to attend.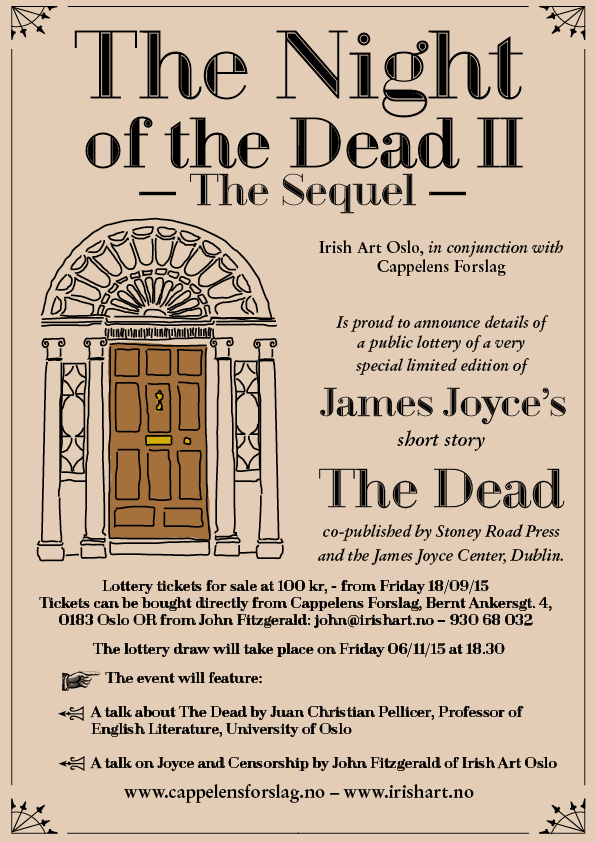 About the book:
THE DEAD is a limited edition handmade book, reproducing the original 1914 text of Joyce's short story, together with hand printed illustrations by the American graphic artist Robert Berry. It is co-published by Stoney Road Press and the James Joyce Centre, to mark the centenary of the publication of Dubliners.
'The Dead', the final and longest story of James Joyce's collection Dubliners, is recognised as one of the most accomplished short stories in the English language and stands as a deft, subtle portrait of everyday life in turn-of-the-century Dublin.
Released one hundred years ago last year, Joyce struggled to have his collection published over nine years, submitting the book eighteen times to a total of fifteen publishers. Writing to the book's eventual publisher Grant Richards in 1906, Joyce stated that his intention was "to write a chapter of the moral history of my country and I chose Dublin for the scene because that city seemed to be the center of paralysis."
The book is limited to 150 copies and is letterpress printed by hand on a Swiss proofing press. The illustrations are hand drawn by the artist and transferred to letterpress plates and each one is then hand printed with the text. The paper is 250 gsm cotton rag and the book is hand bound by Antiquarian Bookcrafts in Dublin and presented with a matching slip case.
Read more about the book on: http://www.stoneyroadpress.com/books/the-dead/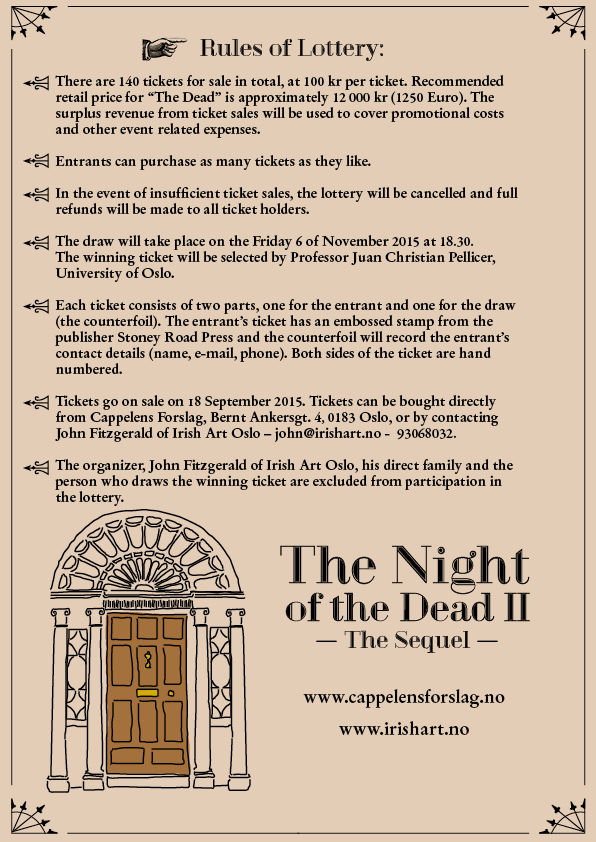 More about the event on Facebook.
www.cappelensforslag.no – www.irishart.no