Cultural events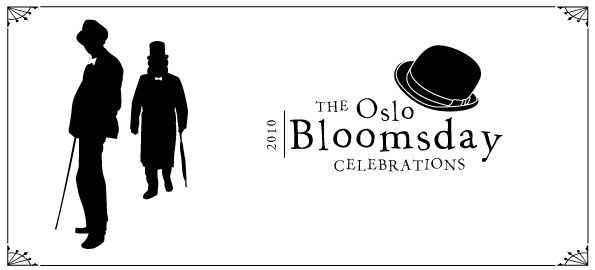 Published on May 25th, 2010 | by admin
1
Bloomsday Hits Oslo
This year's Bloomsday celebrations in Oslo offer a varied and exciting program. In keeping with this year's theme, the Joyce-Ibsen connection, we have a very interesting line-up of lecturers at the Ibsen Museum on 16 June.
The Bloomsday Lectures is followed by a Bloomsday party at Lorry's on Parkveien 12, not far from the Ibsen Museum. All are welcome and there is no charge. 20.30 till late. Please note that this venue has changed, due to unforeseen circumstances, from the venue earlier advertised.
The Bloomsday Lectures have a limited number of tickets so make sure that you get yours early. To buy tickets, please pay kr. 150,- per person directly into account number 1602 470 3111. In the message field please write ticket holder names, and send an e-mail for confirmation to bloomsday@irishsociety.no. Tickets will be sold on a first come, first served basis. In the case of overbooking, ticket price will be refunded immediately.
This year we are hoping that people will make a big effort to dress up for Bloomsday to make this a truly festive event. We recommend Edwardian style costumes such as bowlers, straw boaters and waistcoats for the men, petticoats, bonnets and parasols for the ladies. The more, the merrier! We might even see a couple of Henrik Ibsens there as well.
To help fund the event, the Irish band The Saw Doctors who are playing in Oslo on 8 July are donating two tickets with gift bags. These will be raffled on the evening.