Cultural events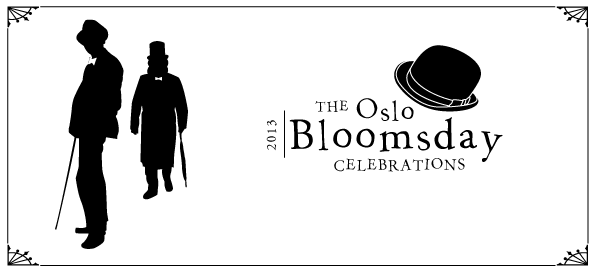 Published on May 29th, 2013 | by admin
0
The Oslo Bloomsday Celebrations 2013
That time of year is almost upon us again and it is soon time to dust off those Edwardian bonnets and boaters and get ready to celebrate another great Bloomsday on 16th June at the Ibsen Museum.
In keeping with tradition, the proceedings will be officially opened by HE Ambassador Angela O'Farrell whose opening speech last year was particularly well received.
Unfortunately due to illness Senator David Norris will be unable to attend the Oslo Bloomsday Celebrations this year. His replacement will be Professor Charles Armstrong of the University of Agder who will be presenting a lecture titled The Everyday Heroics of Ulysses which promises to be both very entertaining and informative.
After the wine intermission we are in for a real treat with Conor O'Neill's physical theatre piece – Ulysses: Avoid da veal 1.0. In true vaudeville tradition this piece will sweep through Ulysses and will move between buffoonery, naturalism, melodrama, realism, commedia dell arte and corporeal mime to present an apt voix de ville or voice of the city.
This is a work in progress and once again we are to be honoured here in Oslo with a world première of this performance at the Ibsen Museum. Later on in the summer Conor will go on to perform this piece at the Galway Arts Festival.
After a great response last year, we are once again hoping that people will make a big effort to dress up in order to make this a truly festive event! We recommend Edwardian style costumes such as bowlers, straw boaters and waistcoats for the men, petticoats, bonnets and parasols for the ladies. While it is by no means necessary to be dressed up to join in the fun, costumes are most welcome. The more, the merrier!
The Bloomsday Lectures have a limited number of tickets, so make sure that you get yours early. Tickets will be sold on a first come, first served basis. In the case of overbooking, ticket price will be refunded immediately.
To purchase tickets:
Pay kr. 150,- per person directly into account number 6012.06.32054. In the message field please write your full name. Also confirm your payment by sending an e-mail listing the names of all ticket holders to: bloomsday@irishsociety.no
The Bloomsday Lectures will be followed by a Bloomsday Party at The Dubliner Folk Pub, Rådhusgt. 28. All are welcome! The party will begin at 21.30 and run until late. No entrance fee.