Cultural events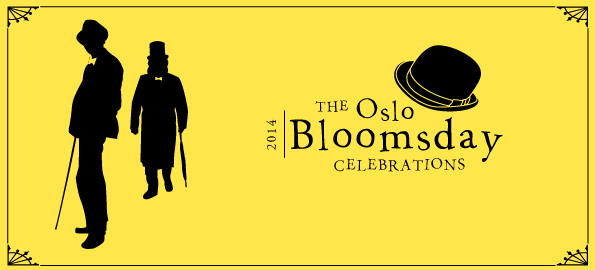 Published on May 23rd, 2014 | by admin
0
The Oslo Bloomsday Celebrations 2014
We are delighted to present our programme for the upcoming Bloomsday Celebrations which will be held on Monday 16th June. This will be our fifth year at the Ibsen Museum, and we could not ask for a better or more apt home for our event.
As in previous years, the proceedings will be officially opened by Her Excellency Ambassador Angela O'Farrell. Her opening address has always been particularly well received, and we are once again looking forward to her contribution.
James Joyce had a great interest in the emerging form of the cinema and once said "Whenever I am obliged to lie with my eyes closed I see a cinematograph going on and on". This interest was evident in his central involvement in the establishment of Ireland's first designated 'movie theatre', but went well beyond this entrepreneurial venture and is evident both in the style and content of his work. Dr. Seán Crosson's talk on Joyce and the Cinema will include screenings of film clips highlighting the influence of the cinema and early moving image technology, like the mutoscope, on Joyce's fiction, in particular Ulysses. Dr Crosson is based at the Huston School of Film & Digital Media, NUI Galway and is currently President of the European Federation of Associations and Centres of Irish Studies (EFACIS).
As a special treat this year, we have asked Oslo-based Irish poet Jean Kavanagh to read some of her favourite James Joyce poems. Jean's first book of poetry, Other Places, published by Salmon Poetry, was launched earlier this year at the prestigious AWP Conference and Book fair in Seattle.
This year's theatrical piece employs both music and word and explores a much neglected, but nonetheless important, aspect of James Joyce's life. Performed by Marion McEvoy, A Portrait of the Artist's Mother, tells the story of Mary Jane Murray Joyce: her early life as a pupil at her aunts' music school on Ushers Island, her marriage to John Joyce, the prosperous early years of their life together, their subsequent decline into abject poverty on Dublin's North Side and her early death following a prolonged illness. The piece was originally written at the request of Joyce's nephew, Ken Monaghan, as lunchtime entertainment for the James Joyce Centre where it was performed regularly during the 1990s. It was performed most recently at The Garden Gate Centre, Berkeley, California as part of their Bloomsday celebrations in 2013.
Marion McEvoy has worked as a musician, composer, sound designer and performer with many theatre companies and is a director of Fortune's Fool Productions. She also runs her own company, Panchord Productions.
After a great response last year, we are once again encouraging people to make a big effort to dress up in order to make this a truly festive event! We recommend Edwardian style costumes, such as bowlers, straw boaters, dicky bows and waistcoats for the men, while the ladies can delve into the world of bonnets, lace, petticoats and parasols. While it is by no means necessary to be dressed up to join in the fun, costumes are most welcome. The more, the merrier!
The Bloomsday Lectures have a limited number of tickets, so make sure to get yours early. Tickets will be sold on a first come, first served basis. In the case of overbooking, ticket price will be refunded immediately.
To purchase tickets:
Pay kr. 150,- per person directly into account number 6012.06.32054. In the message field please write your full name. Also confirm your payment by sending an e-mail listing the names of all ticket holders to: bloomsday@irishsociety.no