Cultural events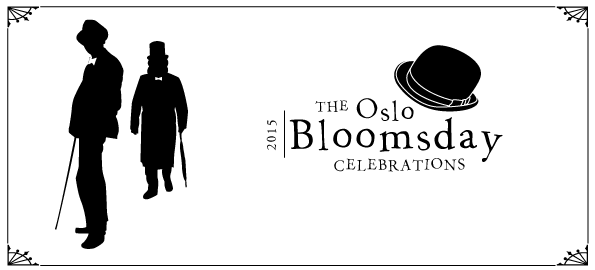 Published on May 31st, 2015 | by admin
0
The Oslo Bloomsday Celebrations 2015
With the 16th of June just around the corner it's that time of the year again…time to dust off your straw boater hats and black bowlers, or parasols and bonnets if you prefer. We are delighted to announce this year's programme for the Oslo Bloomsday Celebrations. This is our sixth year at the Ibsen Museum and given the amazing Joyce/Ibsen connection, we cannot think of a better place to hold our annual event. The opening address will be delivered by Jerry O'Donovan, Chargé d'affaires of the Irish Embassy to Norway and this will be followed by a talk on Joyce and Yeats by Anne Fogarty, who is the Professor of James Joyce Studies at University College Dublin. This is a highly topical subject as the 13th of June is the 150th anniversary of W.B. Yeats' birth. After the intermission we have the Norwegian debut of Declan Gorman's self-penned one man show The Dubliners Dilemma. This critically acclaimed piece promises to be great fun while also providing a unique insight into the troubled publishing of Joyce's early collection of short stories.
Tickets:
200,- 150,- Student (with valid student card) The Bloomsday Lectures have a limited number of tickets, so make sure to get yours early. Tickets will be sold on a first come, first served basis. In the case of overbooking, ticket price will be refunded immediately.
To purchase tickets:
Pay kr. 200,- per person (or 150,- per student) directly into account number 6012.06.32054.  In the message field please write your full name. Also confirm your payment by sending an e-mail listing the names of all ticket holders to: bloomsday@irishsociety.no
Dressing up:
After such great response in recent years, we are once again encouraging people to make a big effort to dress up in order to make this a truly festive event! We recommend Edwardian style costumes, such as bowlers, straw boaters, dicky bows and waistcoats for the men, while the ladies can delve into the world of bonnets, lace, petticoats and parasols. While it is by no means necessary to be dressed up to join in the fun, costumes are most welcome. The more, the merrier!
Professor Anne Fogarty
Anne Fogarty joined the School of English, Drama and Film in 1992 and was appointed Professor of James Joyce Studies at UCD in 2006.  She is Director of the UCD Research Centre for James Joyce Studies. From 1995 to 1997 she was Associate Director of the Yeats Summer School and was Director of the Yeats Winter School from 1997-2001. She was Head of the UCD School of English, Drama and Film, 2011-2014.  She has been Director of the Dublin James Joyce Summer School since 1997. She has organized three international James Joyce symposia, in London in June 2002 and in Dublin in June 2004 and June 2012. She has lectured on Joyce, Yeats  and on contemporary Irish Literature, especially fiction, in many European countries, including France, Spain, Italy, Austria, Sweden, Denmark, Serbia, Norway, Iceland and Slovakia, in the US, in Brazil, and in China, Korea, and Japan.
The Dubliners Dilemma
Described as "Vivid" (Irish Times), "Remarkable" (Metro Herald), "Ingenious" (Mail on Sunday) and "a compelling performance" (Irish Theatre Magazine) Declan Gorman's one-man tram-hurtle through James Joyce's "Dubliners" became an immediate success on its premiere in Dublin in 2012. Set in 1914, London publisher Grant Richards has determined to re-read Joyce' controversial manuscript, eight years after rejecting it over fears it might breach British and Irish obscenity laws. As the racy, comic stories of Joyce's childhood and young adult world spring to life around him, Richards relives his frustrating correspondence with the petulant Irish writer. Should he risk everything second time around and be the one to launch this volatile but brilliant genius on a world about to descend into the madness of war? "Gorman holds the audience enraptured throughout with a truly mesmerising performance. This original adaptation is by no means exclusively for die-hard Joyce fans, making a brilliant introduction for newcomers!" Metro Herald