General interest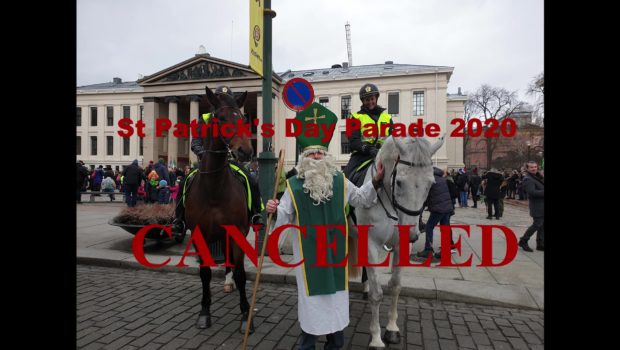 Published on March 10th, 2020 | by admin
0
Cancelled–St Patrick's Day Parade 2020
The Norwegian Irish Society committee regrets to announce that in light of the ongoing uncertainty surrounding the spread of the corona virus and the present climate it has created, we have decided to cancel this years Oslo St Patrick's Day Parade on the 14th of March.
We have come to this decision because, even though we evaluate the parade to be of low risk when it comes to spreading the virus, there remains a risk all the same. The nature of this open air event which would attract large crowds of both participants and onlookers who interact with the parade, presents a number of factors that are outside the capacity of the Society to control. Because of these factors and the Society's wish not to put anybody at risk, we feel it inappropriate to hold the parade as planned this year.
This decision was not taken lightly and was taken in light of developments in Norway, advice from local health authorities, and of course the fact that some and possibly all parades in Ireland have been cancelled. Other parades in Scandinavia have also been cancelled and of course we are aware that our Norwegian neighbours have also been forced to come to this conclusion regarding public events over the past week. We deeply regret any inconvenience our decision causes and we would like to thank all those who had given commitments to entertain, to participate and to assist in various ways as well as our sponsors and supporters and we hope that you will join us for 2021 when we are back bigger and better.