General interest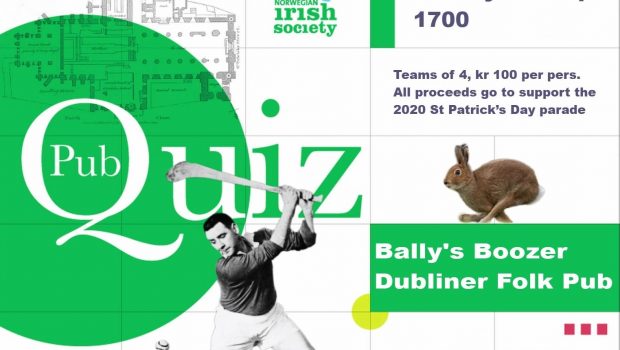 Published on August 30th, 2019 | by mike
0
Irish Diaspora and the Brain Drain
Irish Diaspora and the Brain Drain
Did the best and the brightest leave Ireland? Are you among those great minds lost to the nation? These are important existential questions we all should be asking ………..as are:
–
Can I get away to a pub on a Tuesday night?
–
Will my spouse/partner buy the culture argument?
–
Am I going to be dictated to as to what I do with my evening?
–
Could both of us actually have a night out without guilt?
–
Surely it not totally impossible to arrange a babysitter or a cage?
–
Will I disgrace myself at any quiz?
–
Can I actually find at least one other smart person to team up with?
–
Is the logistic ability of a Roald Amundsen really necessary just to go for a pint in Norway?
If the answer to some or all of these questions is Sea/Yes (or actually Nil/No in a few cases) then you are the bean/fear we are looking for.
We are organizing a pub quiz on Sunday 8th September at 17.00 hrs at the Dubliner (Bally's Boozer) in aid of funding for the 2020 St Patrick's Day events, which hopefully bring a smile to all our faces every March. This is one chance you have to contribute to the success of that effort.
Have a pint, meet some old and new faces, show off your vast knowledge and just enjoy the craic that Irish events represent.
There will be questions that anyone can answer and questions that may challenge the best of us.
Ideally 4 minds are better than 1, so each team should have a good chance, and nobody will need to stand in the corner with a pointy hat on. There are prizes to be won.
Since we are the Norwegian Irish Society there will be questions related to Ireland and questions related to Norway so it would be a good tactic to invite some natives or ally with some old hands who know Norway. But certainly the event is aimed at both Irish and Norwegians….and actually any other nationality, we are a friendly bunch. Possession of airgead to participate is the only qualification necessary……..VIPPS is acceptable and preferred.
So, make it a date, fill out the necessary forms, prepare your cover stories, make sure the sleds are provisioned and the dog team ready to go, and come along on the 8th for the craic.
Feel free to indicate your intentions on FB and invite others who may not be on our circulation list.
Le gach dea–ghuí/best regards
Norwegian Irish Society