St. Patricks Day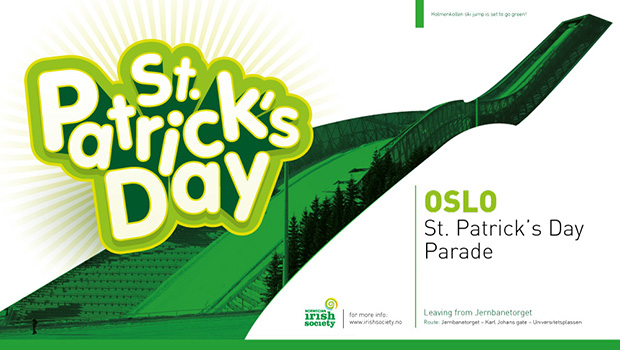 Published on February 28th, 2018 | by admin
0
St Patrick's Day Parade Oslo 17th March 2018
A chairde,
As chair of the Oslo St. Patrick's Day Committee, 2018, I would like to extend a warm welcome to you all to this year's celebration of Irish tradition and culture with our St. Patrick's Day parade and after-parade party at Posthallen. We are in our 18th year of having a parade here in Oslo and we are constantly striving to build on previous years as we aspire always to improve, accommodate and provide an ever evolving and varying 'menu' of Irish music, dance, and culture both at the parade and the celebrations afterwards.
The Oslo Saint Patrick's Day parade is the highlight of the Norwegian Irish Society calendar helping our Irish community here to celebrate our national day here in Oslo, with our families and friends from Norway and all over the world. It is the largest annual gathering of the Irish community and, after Norway's National Day parade and the Pride event, is probably the largest annual parade in Oslo. The aim of the NIS is to keep our Irish culture alive overseas, to celebrate our heritage and to showcase our culture.
St. Patrick's Day celebrations in Oslo are only made possible due to the financial support provided by our sponsors and by the Emigrant Support Programme grant from the Government of Ireland. We, the committee, are extremely grateful for this financial support as we are a non-profit organization with a committee of volunteers who give willingly of their free time to ensure we have a joyful and memorable celebration of Irish culture for this one day each year.
Our thanks to the Oslo Police, Universitet i Oslo and Oslo Kommune for their logistical support and for facilitating the parade. We are indebted to them for their help, without which we couldn't have a parade. As always, the parade starts at 12 noon sharp from Jernbanetorget and everybody is welcome to join us. It follows a route down through Karl Johans gate to Universitetsplassen, where we will all gather to enjoy speeches by the Irish Ambassador to Norway and others, followed by a taste of lively Irish song and dance. You'll find more information about our Posthallen event here.
We acknowledge our many sponsors, volunteers, supporters and of course our ever diligent committee who strive to make this an experience for everyone to enjoy. We look forward to welcoming our many visitors, from both Ireland and further afield, old friends and new friends, our Celtic brethren and those from near and far to Oslo St. Patrick's Day Celebrations on 17th of March 2018.
As always, we are indebted to the Embassy of Ireland in Oslo for their ongoing support, help and guidance."
– Annmarie McDermott, Chairperson St. Patrick's Day committee
Program and Route
The Oslo St. Patrick's Day Committee is pleased to invite you and yours to our St Patrick's Day parade, on Saturday the 17th of March 2018 at 12.00 sharp. Starting at Jernbanetorget- ending at Universitetsplassen.
Dress up and join us for a good day of craic.
Parade program
11.30 Parade Assembly Jernbanetorget
12.00 Parade starts
12.30 Parade Arrives at Universitetsplassen
12.30 -13.15 Program at Universitetsplassen
Welcome by Organising Committee
Address by Irish Ambassador
Address by Parade Grand Marshal Anders Lillebo & Olav Christer Rossebø
National Anthem
Dancing by Sound Irish Dance Factory, music from Anders Lillebo & Olav Christer Rossebø and also singing from The Mná Singers!
Afterparty program
Venue: Posthallen, Prinsensgate 8, 1059 Oslo. More info here.
2:30 pm The Mná Singers with special guests
3:00 pm Denis the Magician
3:30 pm Raffle
4:30 pm Sound Irish Dance Factory
5:00 pm Anders Lillebo & Olav C. Rossebø
Thank you to all our sponsors: