St. Patricks Day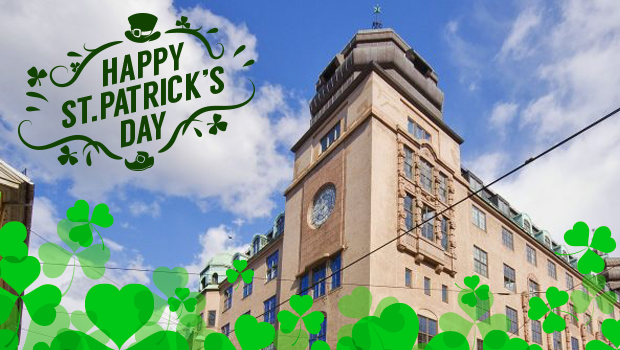 Published on February 17th, 2017 | by admin
0
The St Patrick's Day Parade Afterparty – Saturday 18th March
The St Patrick's Day parade is on Saturday March 18th this year and once again, we are looking forward to a great day when we come together and celebrate all things Irish in our part of the world here in Oslo, Norway.
As usual, we are planning an event after the parade so that we can sit and chat, enjoy good food and drink and most of all, good company. This year, the afterparty will be at Posthallen which is the very impressive old Norwegian general post office, just off Karl Johan's gate.
We will have a large room to ourselves with plenty of round-tabled seating so we that can sit back and enjoy the great line-up of entertainment in comfort.
Venue: Posthallen, Prinsensgate 8, 1059 Oslo.
Time: 2pm, doors open
Food and drink: Asian buffet, all you can eat. It's an extensive selection of hot and cold food with Thai, Japanese, Chinese and Mongolian influences. We will have access to a full bar throughout.
Entertainment: We have a more varied line-up than ever, including Magician Chriss, St Patrick story-telling, Mná Singers, Saoirse singers, Irish dancers and Irish rock musician, Eamonn Dowd. Of course, there will also be a face-painting corner as well as lots of raffle prizes throughout.
Prices: For food and entertainment (partly subsidised by the Emigrant Support Programme )
269 NOK for adults
99 NOK for under 12s. Free for under 4s.
Pre-booking: We request that you pre-book so that we have a good idea of numbers for food etc. Please note that this year, we will not have the facility to take cash at the door as we have in previous years. UPDATE 14th March: This event is SOLD OUT!
To pre-book: Please pay directly into account number 6012.06.32054 (Norwegian Irish Society). In the message field, it is important to write your full name so that we can track the payment easily and give you a hearty welcome when you arrive at the event.
Also, please send an email to sales@irishsociety.no to confirm your payment and the names of those you have just paid for. We will need this on the day to ensure that admission runs smoothly.
We look forward to sharing a great day with you.
This event has been generously sponsored by the Emigrant Support Fund from Culture Ireland in association with the Embassy of Ireland.
Thank you to all our sponsors: