St. Patricks Day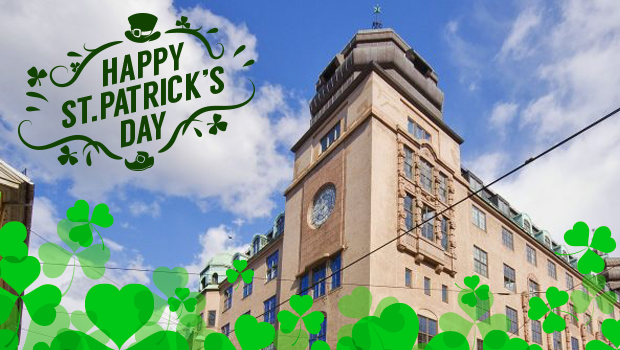 Published on February 16th, 2018 | by admin
0
The St Patrick's Day Parade Afterparty – Saturday, 17th March.
The St Patrick's Day Parade Afterparty – Saturday, 17th March.
Great excitement surrounds St. Patrick's Day in Oslo this year. Call it the luck of the Irish that this year, March 17th falls on a Saturday which means that we will celebrate here in Oslo on the same day as Irish communities everywhere.
Building on the success of last year, we will once again have a party in Posthallen after the Oslo parade. Full details are below and we look forward to seeing you there.
Venue: Posthallen, Prinsensgate 8, 1059 Oslo.
Time: 2pm – 5.30pm. (doors open 1.30pm)
Food and drink: Asian buffet on a self-service basis. Food available throughout the event. Full bar. Tables of 9/10 with free seating.
Entertainment: Once again, we have a great entertainment line-up for the whole family, including:
Mná Singers – our very own Oslo ladies choir
Denis Stone – awarding-winning Irish illusionist and magician
Sound-Irish Dance Factory – great Irish dancing from an Irish dancing school right here in Oslo
Anders Lillebo & Olav Christer Rossebø – traditional Irish music, a real treat
Raffle – with great prizes as always
We will also have a kid's area with story-telling by St.Patrick himself, face-painting and an arts and crafts table where kids can have fun exploring their creative side.
Entry fee: For food and entertainment
300 NOK for adults
100 NOK for under 12s. Free for under 4s.
Pre-booking: We request that you pre-book by March 15th so that we have a good idea of numbers for food etc. Please note that this year, we will not have the facility to take cash at the door as we have in previous years.
To pre-book:
a) Please pay directly into account number 6012.06.32054 (Norwegian Irish Society). In the message field, please write your full name so that we can track the payment easily and give you a hearty welcome when you arrive at the event.
b) Also, please send an email to sales@irishsociety.no to confirm your payment and the names of those you have just paid for. We will need this on the day to ensure that admission runs smoothly.
And remember, for all your St Patrick's Day party supplies and accessories check out Festmagasinet Standard!
This event has been generously sponsored by the Emigrant Support Fund in association with the Embassy of Ireland.
This event is hosted by the Norwegian Irish Society, a not-for-profit organisation. All payments made go directly towards covering costs for food, venue and entertainment on the day. Any enquiries to sales@irishsociety.no
Thank you to all our sponsors: