Category Archives:
Cultural events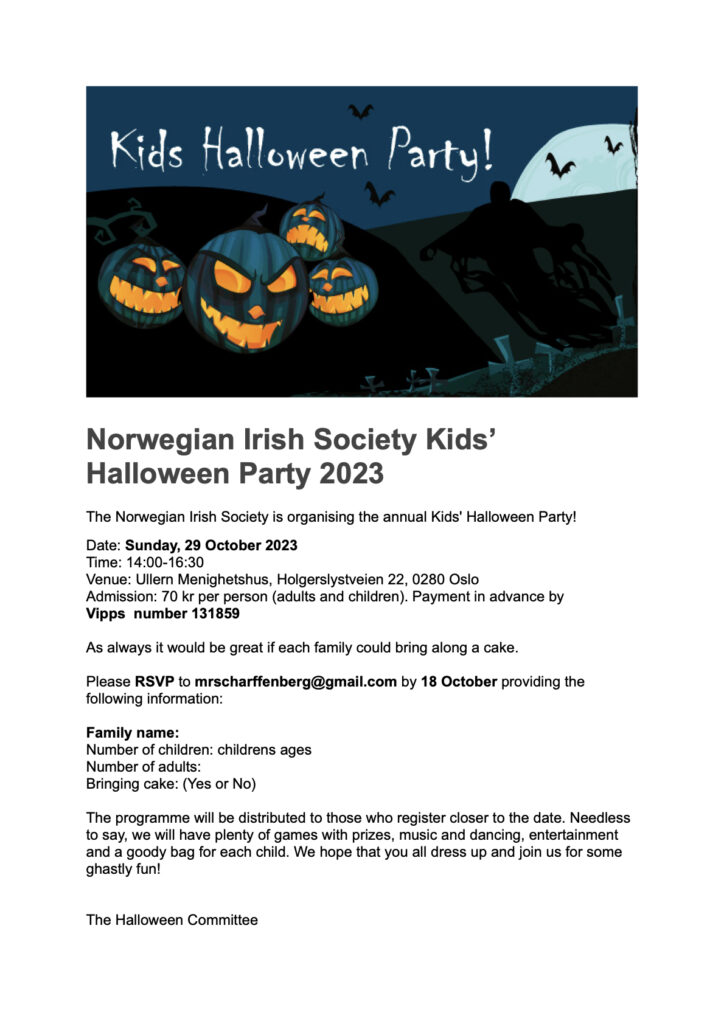 The Norwegian Irish Society is organising the annual Kids' Halloween Party!
Date: Sunday, 28 October 2018
Time: 14:00-16:00
Venue: Ullern Menighetshus, Holgerslystveien 22, 0280 Oslo
Admission: 60 kr per person (adults and children). Payment in advance by Vipps.
As always, we would greatly appreciate if you could bring along a cake!
Please RSVP to NorwegianIrishHalloweenParty@gmail.com by 19 October providing the following information:
Family name:
Number of children:
Number of adults:
Bringing cake: (Yes or No)
The programme will be distributed to those who register closer to the date. Needless to say, we will have games with prizes, lots of music and dancing. We hope that you all dress up and join us for some ghastly fun!
The Halloween Committee
The 9th Oslo Bloomsday will be celebrated once again at the Ibsen Museum on

Saturday 16th June

.
This year we start at 16.00 and have a very exciting programme.
Tickets cost 200kr for Adults and 150kr for Students.
Tickets available at the door – Cash or VIPPS only
Bloomsday costumes welcome but not required.